6.2 CONFIGURATION OF THE SYNTHESIZED VOICE
Si no disponemos de un motor de voz sintetizada, en primer lugar debemos descargarnos uno. At first we can use the "Google Voice Synthesis" which, although not of great quality, will allow us to "get by". We open the "Google Play" and in the search field we write: "Google voice synthesis".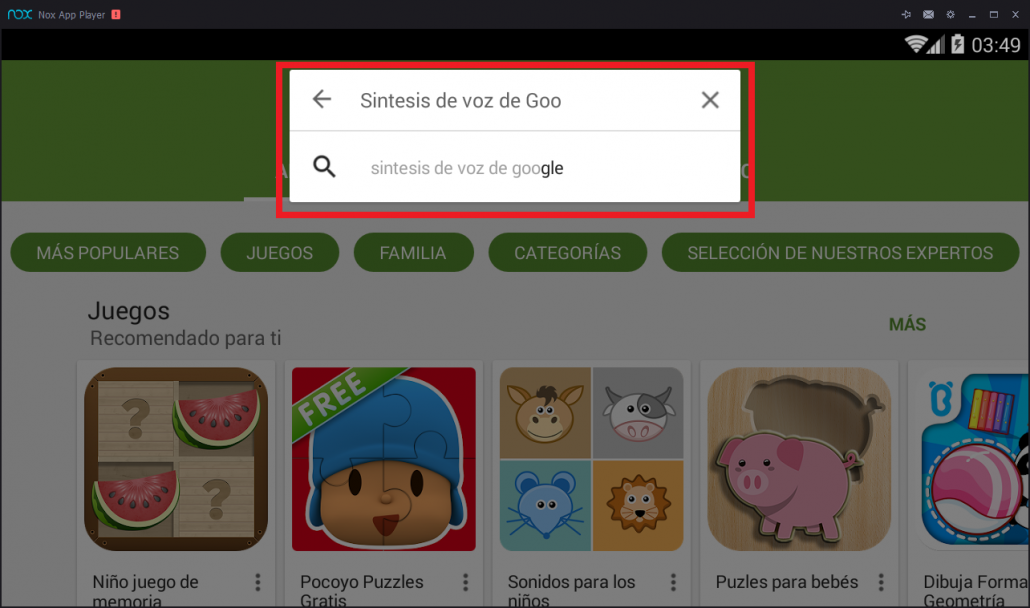 Click on the Application tab.

We press "Install" and in the Permissions Confirmation window, click on "OK".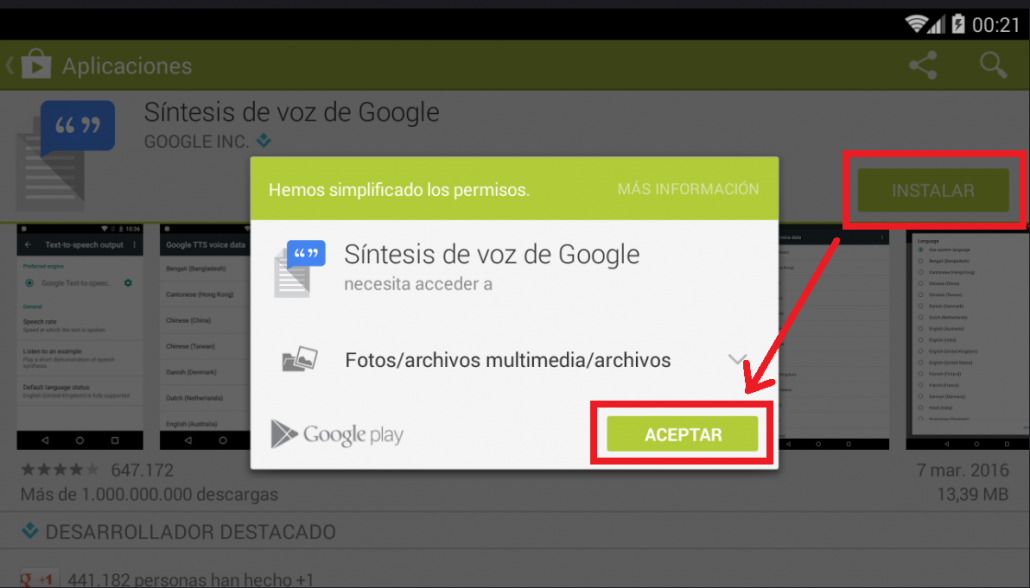 The app will start to download.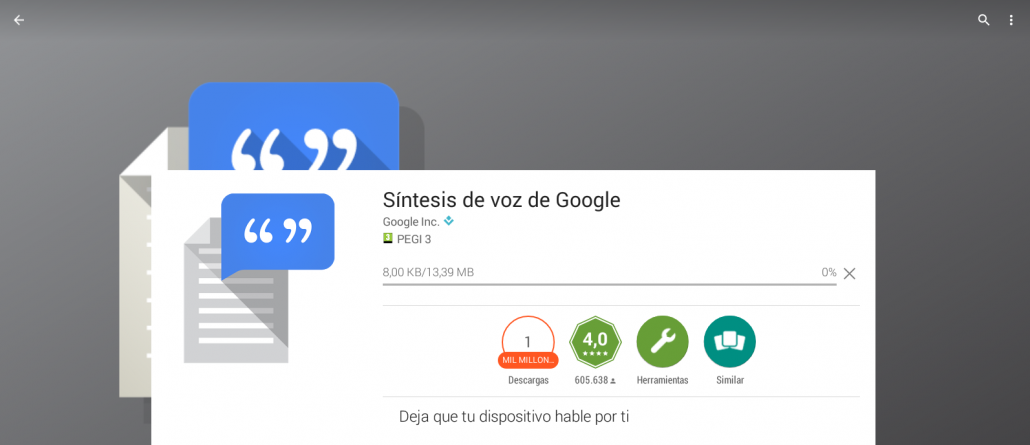 Once downloaded and installed we return to the Android configuration. To do this, click on "Settings".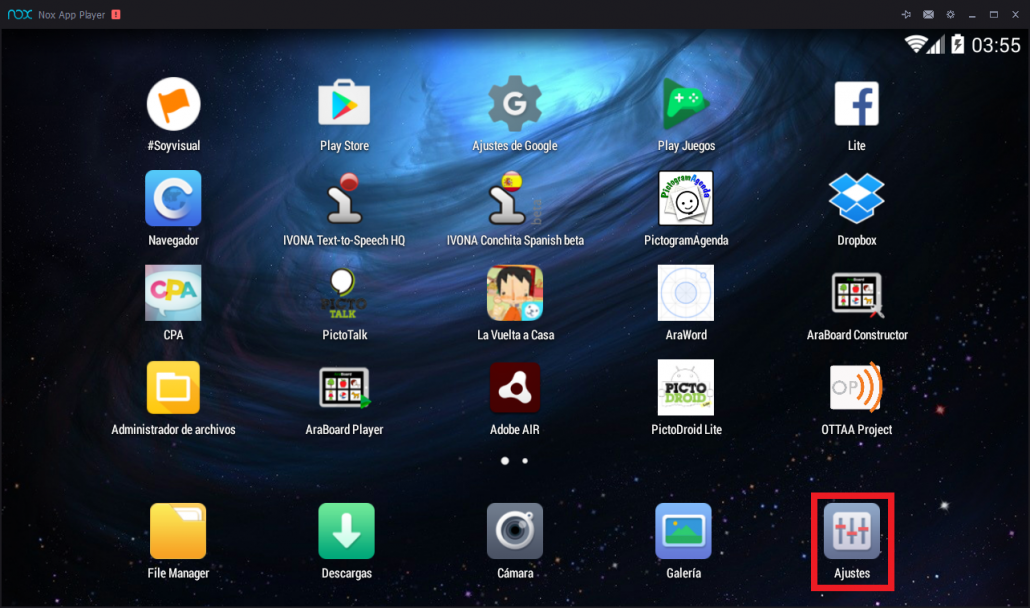 Within "Settings" we will click on "Language and text input".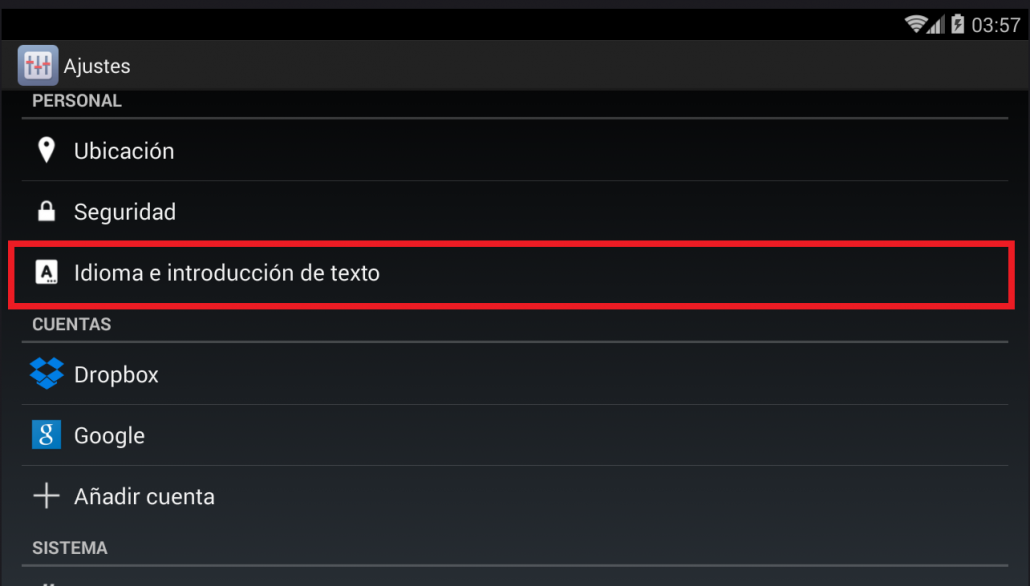 Click on "Voice Synthesis"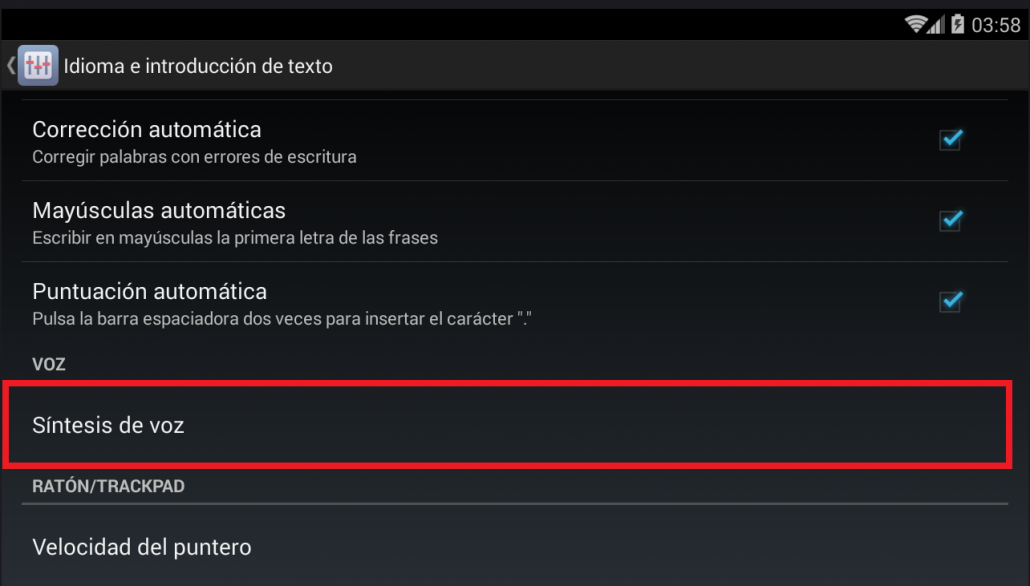 Once inside we see that two voice engines appear: "Picto TTS" (activated) and "Google Synthesis". We activate this second.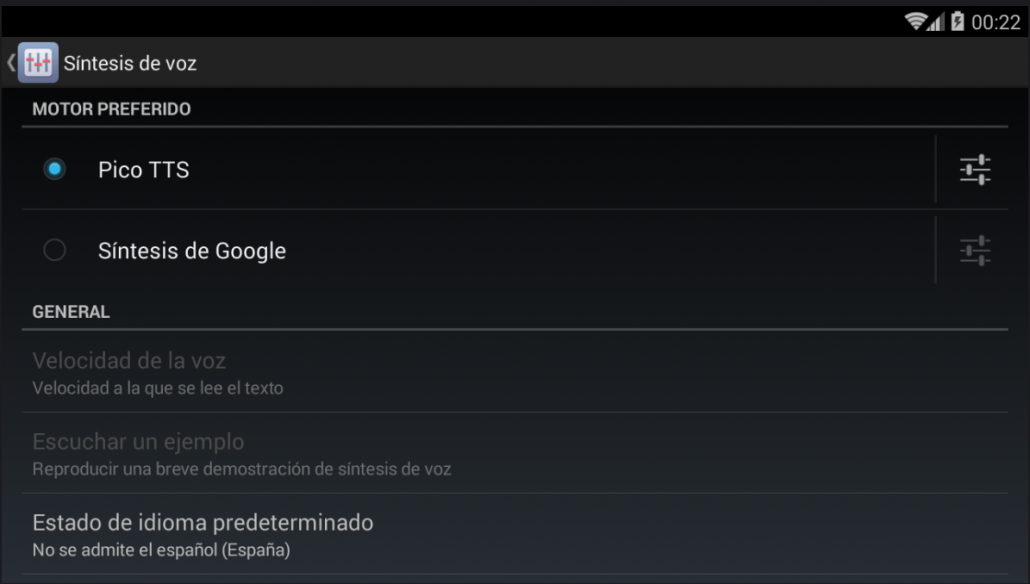 When activating it, a warning message will appear that we must "Accept".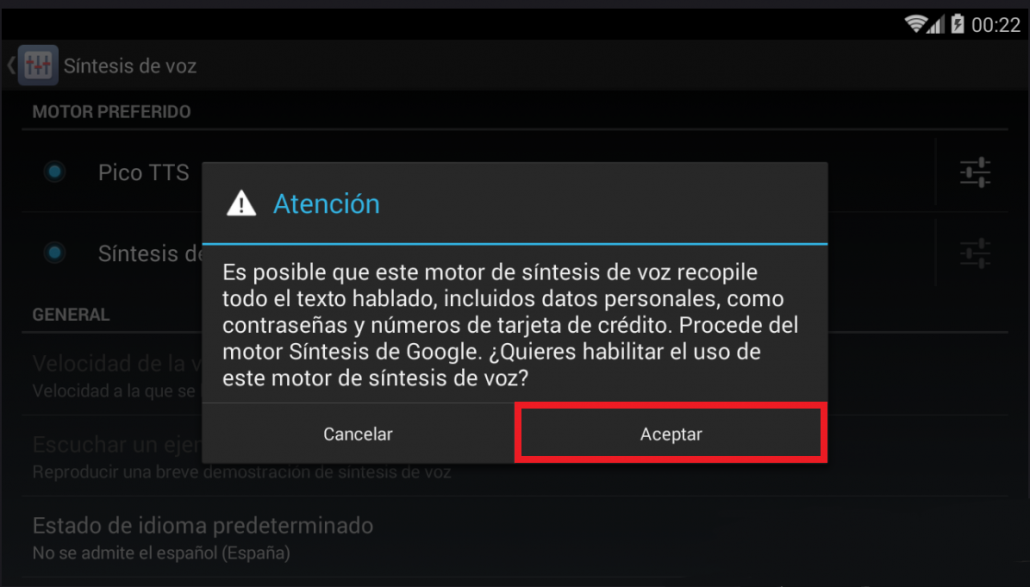 Once "Accept" is pressed, the Google voice engine will be activated. Click on the engine configuration button.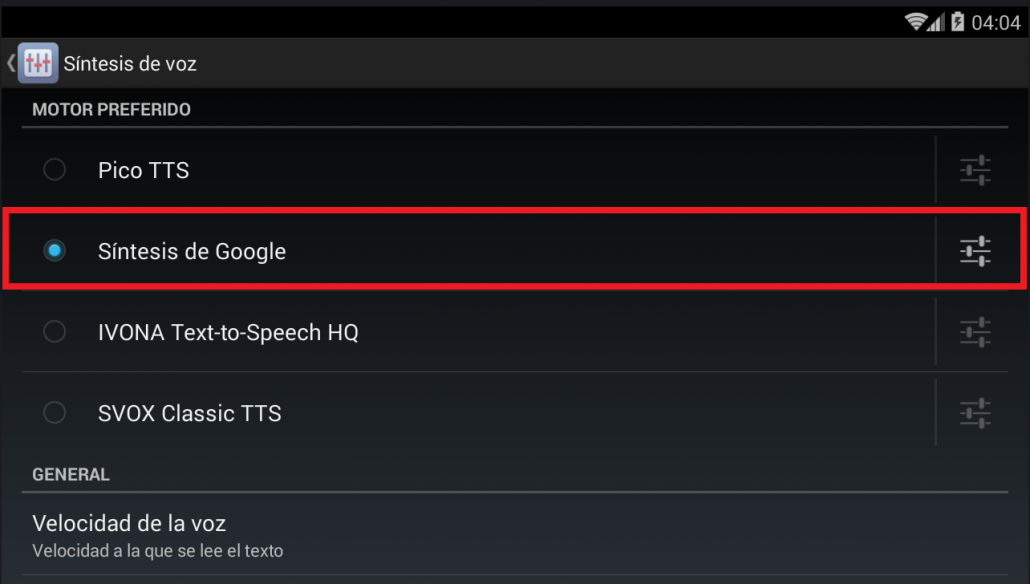 Once inside, click on "Install voice files".

In the list of languages we will look for "Spanish (Spain)" and we will click on it.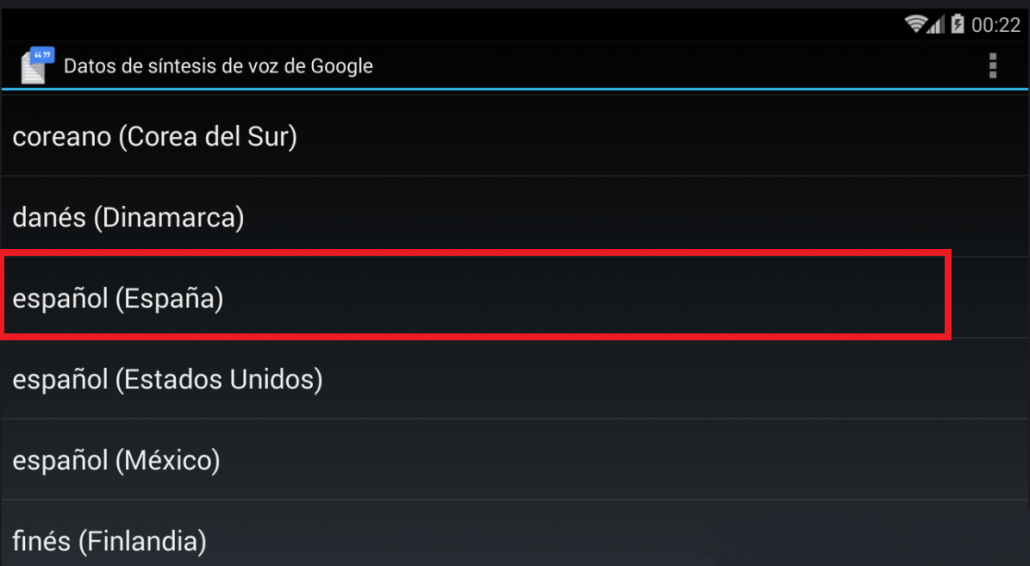 It will ask us to download the data for the selected voice. Click on the download button.

Once downloaded, the Spanish voice engine will become available to all applications that make use of it.
Within the configuration of the Synthesized Voices, the most interesting is, without a doubt, the speed at which the voice is read. This can be configured from the "Voice Synthesis" menu in the "Voice speed" option.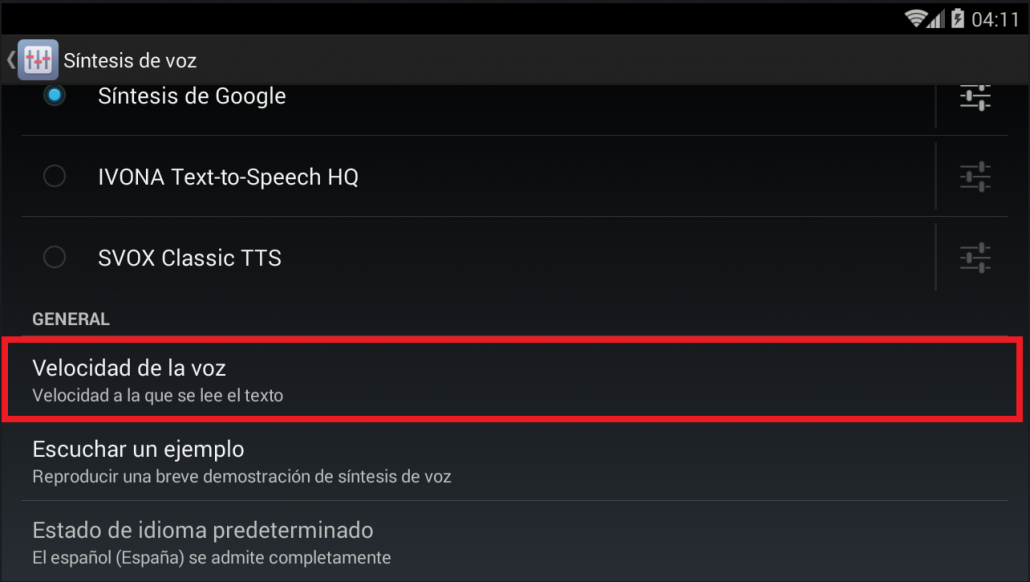 The "Normal" option is activated by default and we can choose any of the options that it offers us, adapting it to our needs.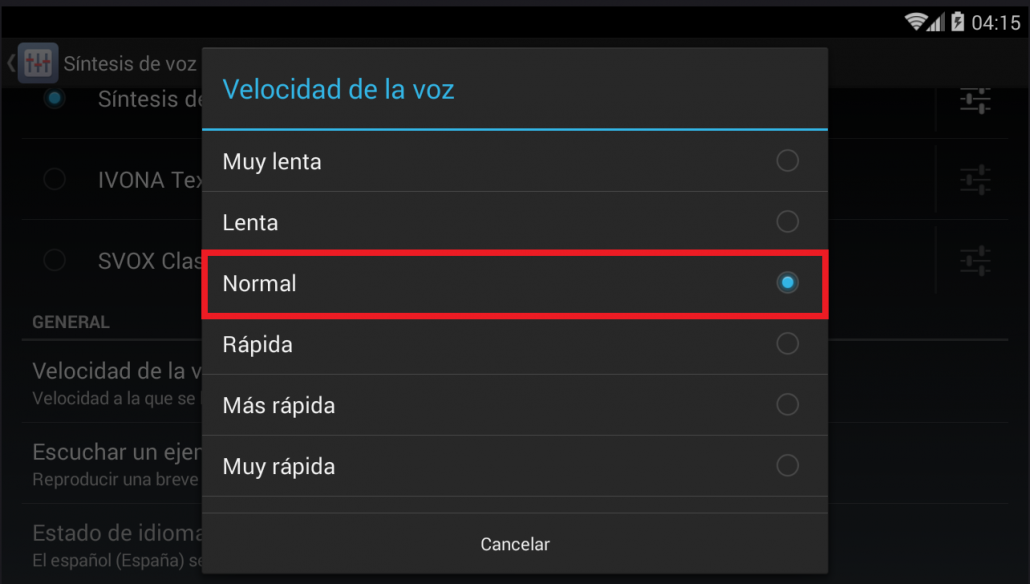 Once the speed is changed we can hear an example of what it would sound like.
If we don't want to resort to Google's voice synthesis engine, we can purchase some of the paid voices on the market that offer, for little money, superior synthesis quality. Our recommendation is:
Vocalizer: Offers voices in more than 80 languages of great quality at €3.99 each. In Spanish we recommend the voice Jorge. https://play.google.com/store/apps/details?id=es.codefactory.vocalizertts&hl=es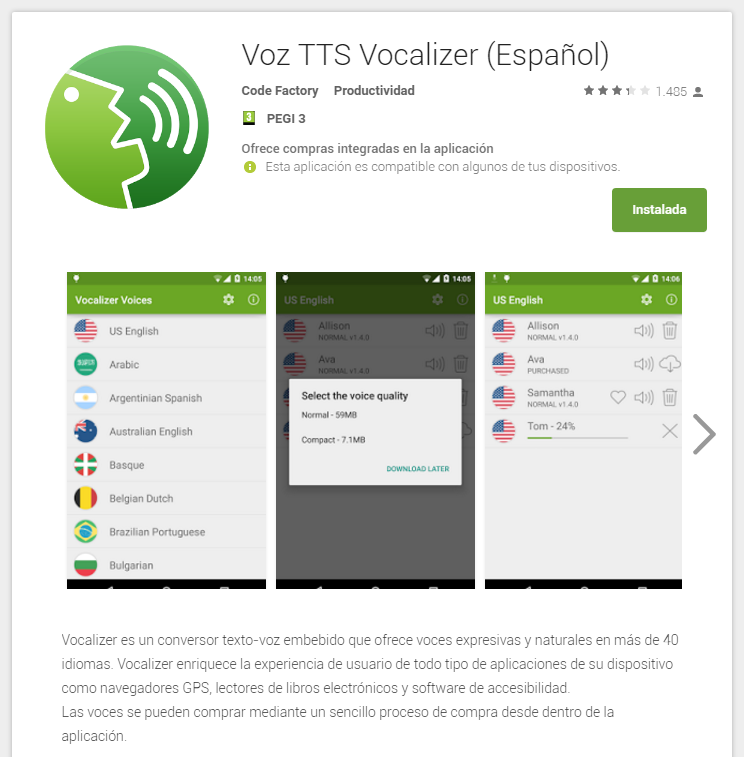 In order to assess other possible voice engines, we leave you a complete table with the supported languages and their price.
LANGUAGE
SVOX
ACAPELA
IVONA
GOOGLE
ESPEAK
PRICE
COMERCIAL
COMERCIAL
COMERCIAL

FREE IN BETA

FREE
FREE
Arabic
YES
YES
NO
NO
YES
Catalan
NO
YES
NO
NO
YES
Chinese
Mandarin Chinese, Cantonese
Mandarin
NO
NO
Mandarin Chinese, Cantonese
Czech
YES
YES
NO
NO
YES
Danish
YES
YES
NO
NO
YES
Dutch
YES
Dutch, Dutch Belgian
NO
NO
YES
English
Australian English, US English, UK English
Australian English, US English, British English, Indian English
Australian English, US English, England English, Welsh English
English USA, English England
YES
Finnish
YES
YES
NO
YES
French
European French, Canadian French
European French, Canadian French
YES
YES
YES
German
YES
YES
NO
France, Belgium
Greek
YES
YES
NO
NO
YES
Hungarian
YES
NO
NO
YES
Icelandic
NO
YES
NO
YES
Italian
YES
YES
YES
YES
YES
Japanese
YES
YES
NO
NO
NO
Korean
YES
YES
NO
YES
YES
Polish
YES
YES
NO
NO
YES
Polish
YES
YES
YES
NO
YES
Portuguese
Portuguese, Portuguese of Brazil
Portuguese, Portuguese of Brazil
NO
Brazilian Portuguese
Portuguese, Portuguese of Brazil
Romanian
NO
NO
YES
NO
YES
Russian
YES
YES
NO
NO
YES
Slovak
YES
NO
NO
YES
Spanish
Spanish Spain, Spanish Mexico
Spanish – Spain,

US Spanish

Spanish – Spain,

US Spanish

Spanish – Spain,

US Spanish

Spanish – Spain,

US Spanish

Swedish
YES
Swedish, Swedish Finnish
NO
NO
YES
Turkish
YES
YES
NO
NO
YES