2. REGISTRO Y ACCESO A SYMBOTALK
---
Symbotalk es un comunicador multiplataforma con una interfaz única, independientemente de la plataforma de uso, que permite la sincronización de información entre cualquiera de ellas
Podemos acceder a la aplicación web a través de nuestro navegador habitual en el PC y a través de la descarga gratuita de la App para dispositivos móviles con sistema operativo Android e iOS.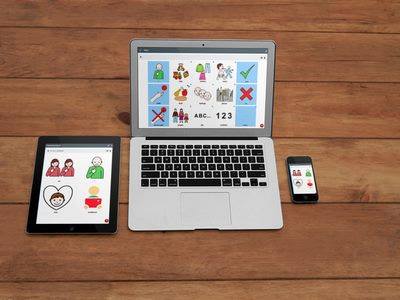 La única diferencia entre la versión web de la aplicación y la que descargamos en dispositivos móviles es el acceso a alguna funcionalidad adicional como la impresión en formato pdf de los tableros en la versión web para PC.
Registro y acceso a la aplicación Symbotalk
Cuando accedemos a SymboTalk, nos encontramos con la pantalla de bienvenida.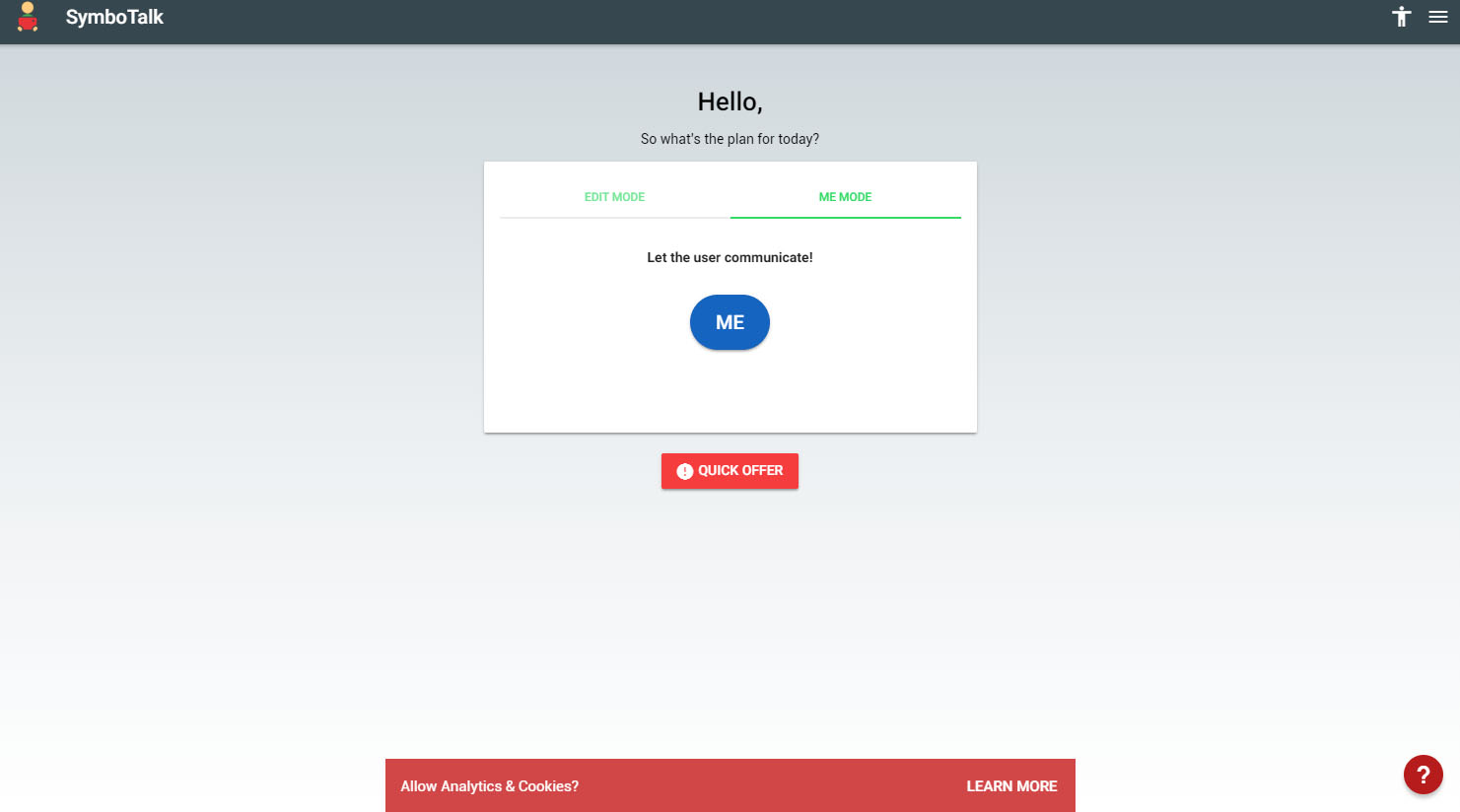 Para comenzar a utilizar la aplicación, clicamos en el icono 

 que se encuentra en la barra superior derecha.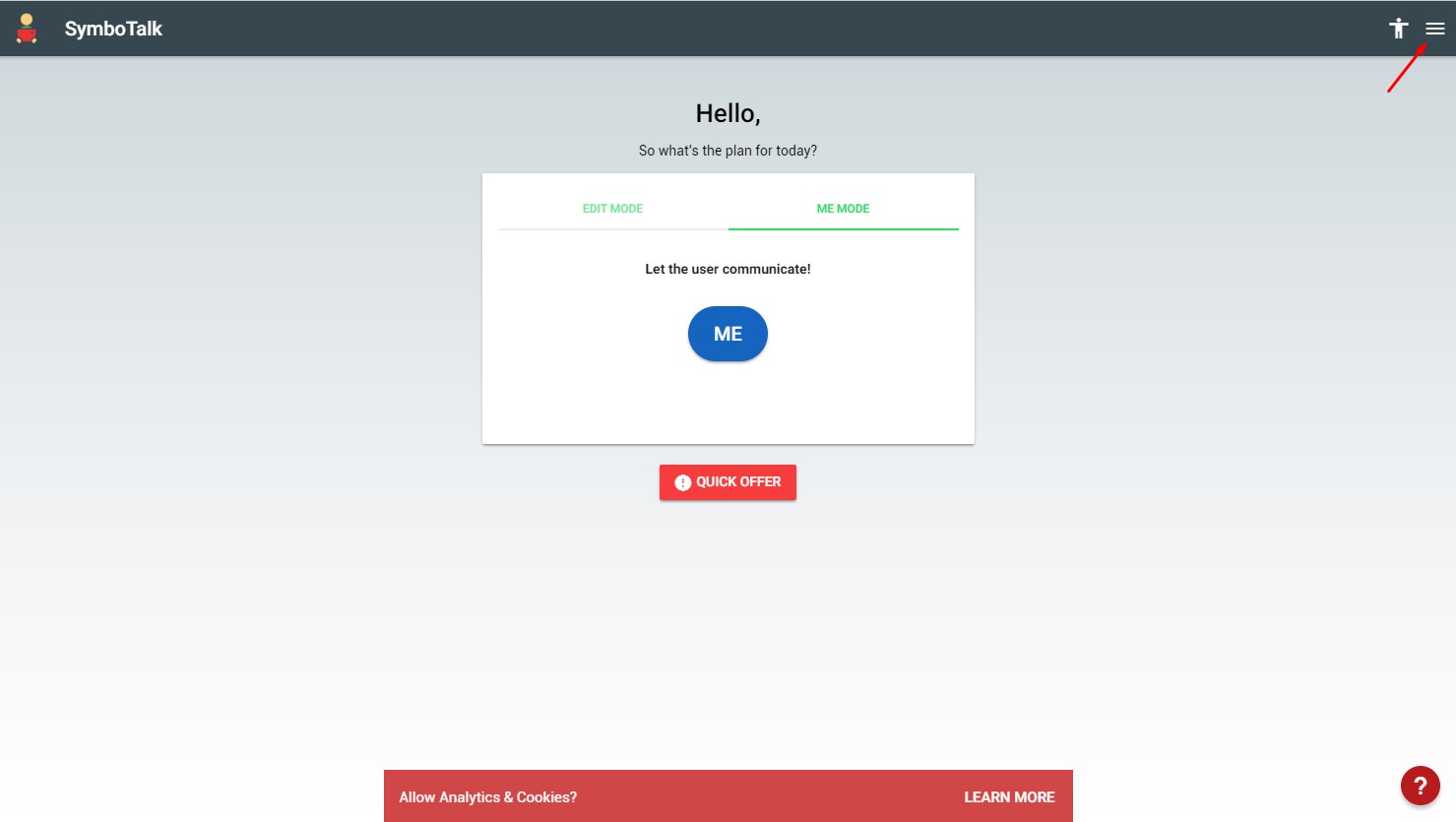 Pulsamos en Login para poder iniciar el registro en la aplicación de forma gratuita.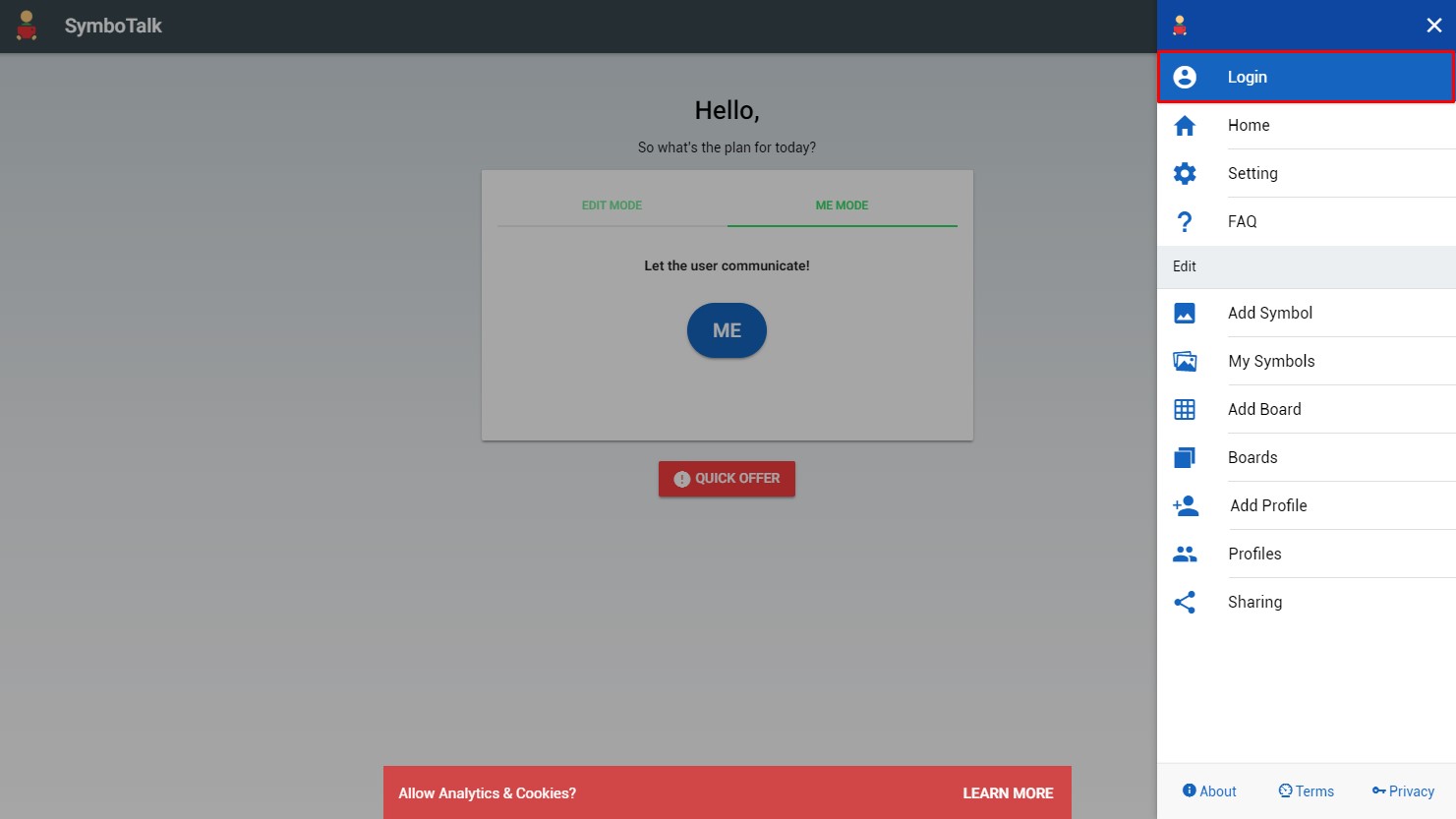 A continuación, aparece una ventana en la que se informa que para poder realizar la sincronización entre dispositivos  se requiere realizar una suscripción de 1 dólar al mes. Este mensaje no afecta al funcionamiento de la aplicación (plenamente funcional en el PC o en la App), ya que el REGISTRO y USO es TOTALMENTE GRATUITO.  Esta suscripción tiene la finalidad de sufragar los costes del servidor en el que se alojan las copias de seguridad para realizar la sincronización entre dispositivos y los costes de la publicación y mantenimiento de la App en las distintas plataformas.
Para continuar con el proceso de registro pulsamos en Sign Up.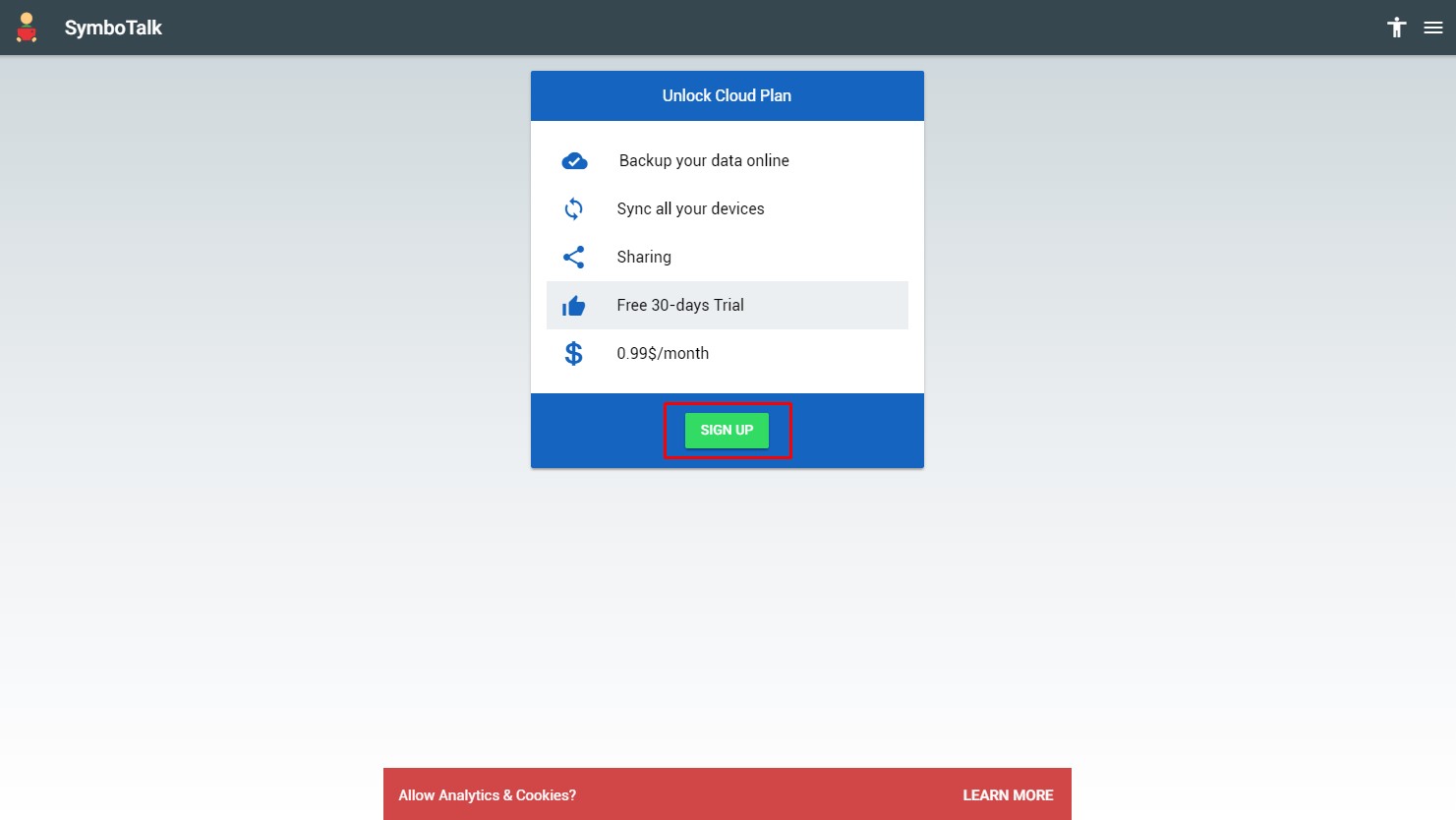 Una vez accedemos a la ventana de registro, marcamos  la casilla I agree to Terms.
A continuación, se presentan dos posibilidades de registro:
Registro en la aplicación con una cuenta de correo electrónico de cualquier servicio de mensajería (Gmail, Hotmail, Outlook, etc.). En el caso de que vayamos a sincronizar el comunicador con otras personas (profesionales o familias), recomendamos crear y utilizar una cuenta de correo exclusiva para este fin.
Registro con nuestra cuenta de correo de Google. Para ello pulsamos en el recuadro Sign in with Google. Nos aparecerá una ventana emergente en la que se listarán las cuentas de Google con las que nos hemos autentificado alguna vez en ese navegador o nos saldrá un formulario de Google en el que podremos introducir los datos de nuestra cuenta de Google (usuario y contraseña). Una vez realizados estos pasos, se cerrará la ventana y regresaremos a la aplicación ya registrados.
Una vez completado el formulario de registro, pulsamos en Sign.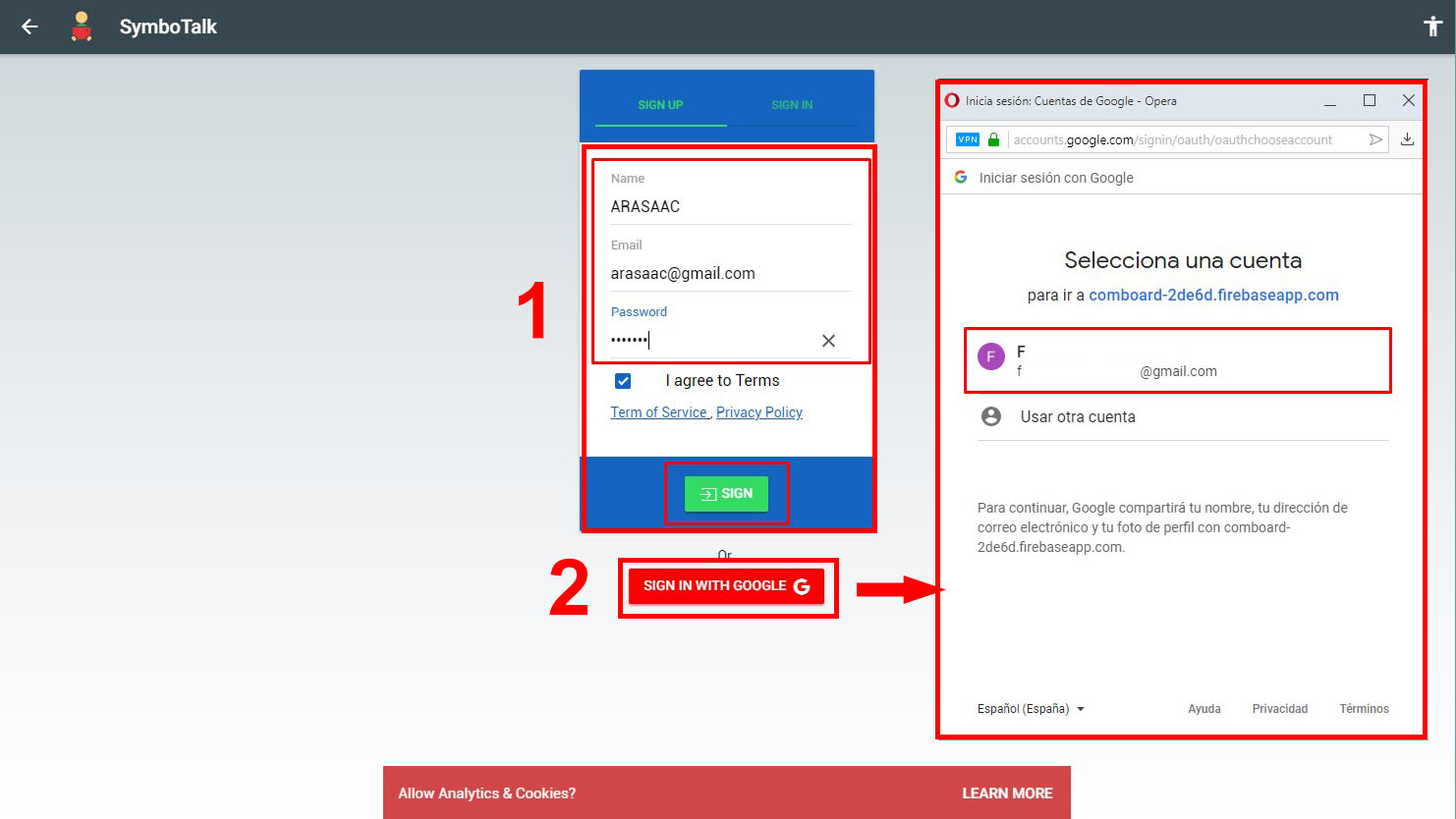 Si ya estamos registrado en la aplicación, podemos acceder directamente desde la pestaña Sign In.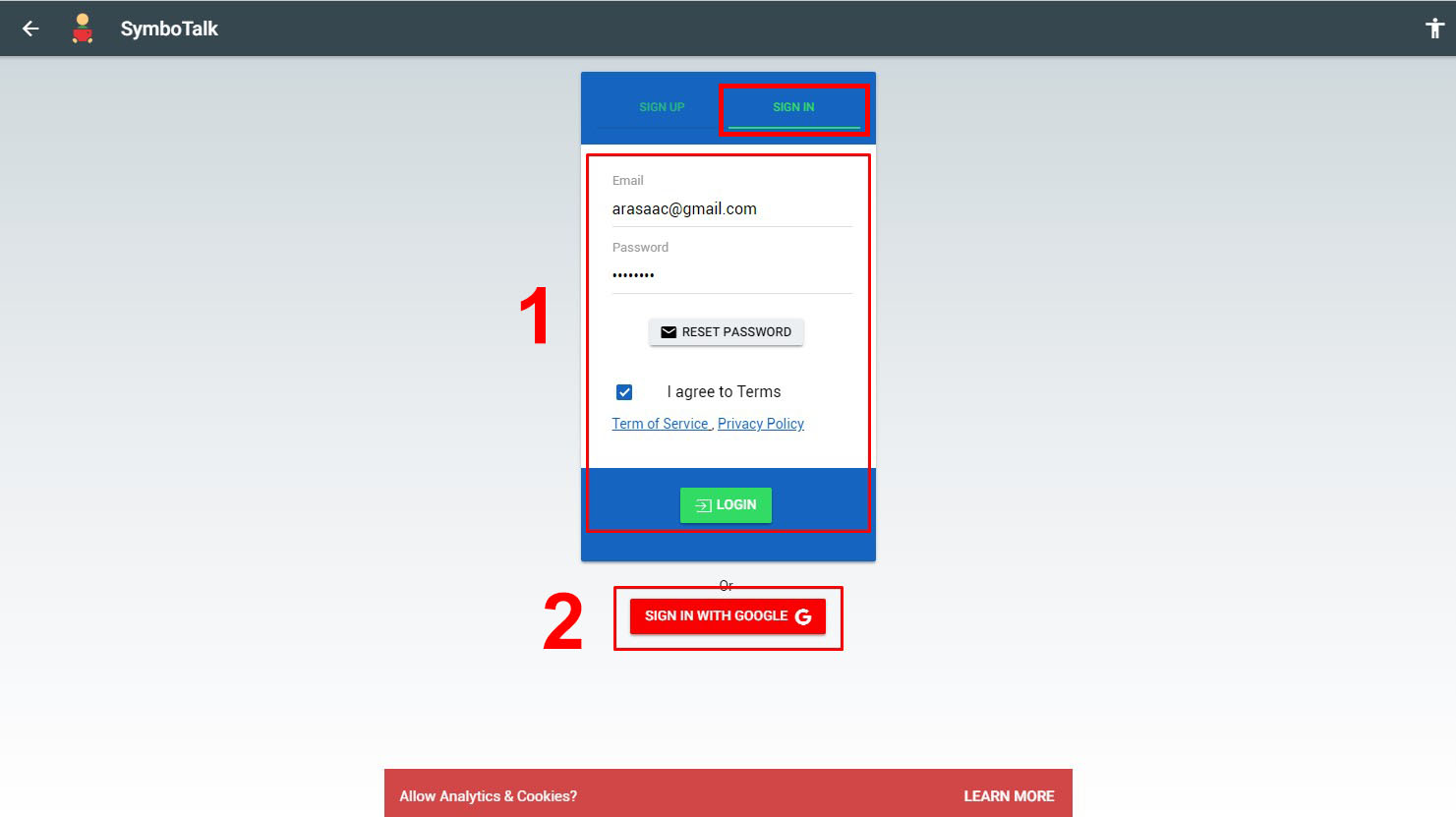 Al igual que en el registro tenemos dos opciones: o introducir el email y la contraseña con la que nos registramos manualmente (1) o autentificarnos con la cuenta de Google (2).