USO DE PICTOGRAMAS EN TERAPIA INTENSIVA:
"

NORBERTO Y SU PIJAMA

"

– HOSPITAL TRES ARROYOS – BUENOS AIRES
Our sincere thanks to Norberto, his family, the health personnel and Guillermina for allowing us to share this story of overcoming that has moved us and that encourages us to continue fighting to improve the quality of life of all people and in all areas.
Norberto is a patient who enters Intensive Care at the Municipal Health Center of Tres Arroyos (Buenos Aires – Argentina) with a picture of negativized Covid and meningitis. After more than 15 days in assisted breathing and with complete sedation, sedation begins to be removed, a process of evolution that takes more than 48 hours.
When Norberto begins to mobilize through face gestures, the nursing staff, who until that moment had established a relationship with the patient through the strategies of care and containment, observes that he requests something in particular, but they realize that it is NOT WATER, which is what a patient usually asks when he gradually resumes the state of consciousness.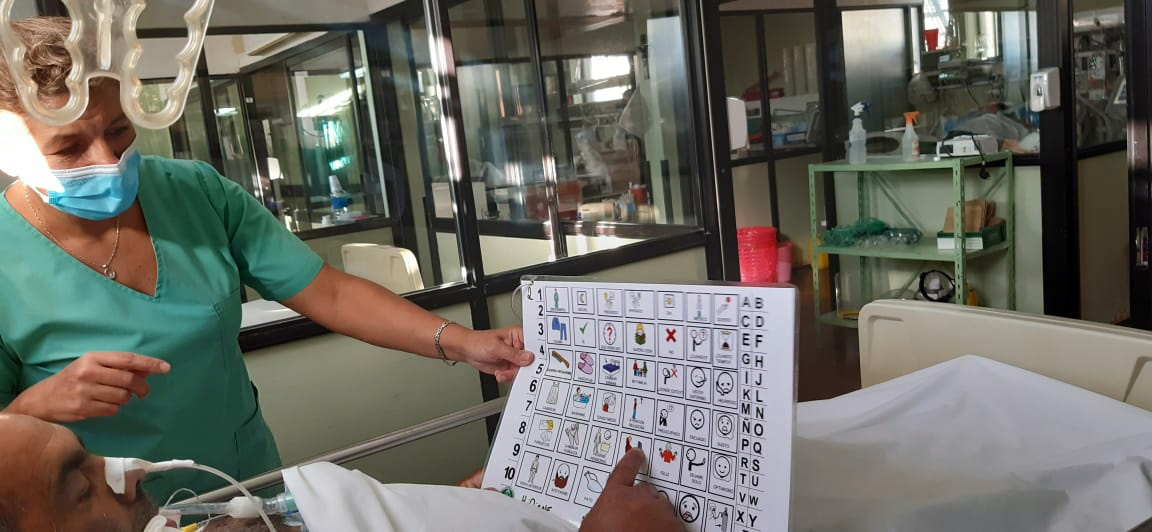 Nurses begin to use a communication board with ARASAAC pictograms. From this moment, this table becomes a communication tool that makes it possible to understand Norberto's desires and needs and that provokes moments of laughter and humor, because they realize that Norberto does not ask for water, but his PAJAMAS, something unexpected at that time for the nursing staff.
Between laughter, gestures of affection and care , communication with the medical and assistance personnel of the sector became fluid and enjoyable thanks to the pictograms of ARASAAC, until Norberto's evolution allowed him to recover his speech and communication skills. The collaboration with the family was fundamental, since every day he used his half hour of visit to show him photos, remember memories and collaborate in the recovery of Norberto who overcame a serious condition without neurological sequelae.
According to nursing staff, Norberto is a person of very good character, very calm and with a lot of humor who could not believe that he woke up and was without his clothes. For him, it was very urgent to have his pajamas so he was very happy that, through the pictograms they allowed to understand his need, which is not the most common when a patient wakes up from sedation.
"It is very gratifying the relationship that is generated with our patients, we when they are in sedation, asleep and on a ventilator we take care of them with all the protocols that each pathology requires but we also pamper them a lot. We know that contact in those moments is very important and there in the box we are the only thing they have. Then when little by little they recover their state of consciousness, the voices are recognizing us and through their eyes the communication process begins. These elements are useful for us and for the patient because they allow us to know what happens to him and what he wants. For us the smallest detail is very important", Elina, Intensive Care Nursing Supervisor, tells us.
The communication board used by Norberto has been prepared by Guillermina Ramos, Special Education Teacher and her 3rd year students of the Special Teacher career of the Institute 167 of Tres Arroyos and fits within a project of creation of communication boards with pictograms of ARASAAC for the ICU of the Hospital de Tres Arroyos, in collaboration with the Disability Area of the Ministry of Prevention and Health and doctors Sebastián Otero and Elina Berrutti (Coordinator and Supervisor of ICU respectively).
From ARASAAC, we want to show our greatest joy for the total recovery of Norberto, to whom we send a very strong hug, and we transmit our gratitude and solidarity to all the people and institutions that dedicate their work to improve our health and save our lives daily. THANK YOU!!!
Download communication boards