COMMUNICATION NOTEBOOKS FOR ICU – HOSPITAL DE ALICANTE
Communication isa fundamental tool and the basis for being able to interact socially, express our emotions, needs and sensations in any circumstance. It is also one of the most important pillars of the nurse-patient relationship. From the Hospital of Alicante,we share this project that consists of the use of a communication notebook with pictograms of
ARASAAC created by Sonia Balboa Esteve and Aitana Gomis Pazos (ICU Nurses General University Hospital of Alicante) and Lourdes Viñuelas Barberá (Speech Therapist) and designed so that patients with communication difficulties in the ICU of the Hospital de Alicante can communicate their basic needs and emotions.
Due to the characteristics of the ICU service, patients who are awake but whose pathologies have occurred have generated neurological alterations at different levels or motor alterations that temporarily, or sometimes permanently, communicate in an efficient way are treated very frequently. Patients with aphasia due to acquired neurological damage who have difficulties in making themselves understood (due to infantile cerebral palsy, after hemorrhagic and ischemic strokes, moderate or severe TBI …) or patients with problems in the phonoarticulator organs (tracheostomies derived from prolonged invasive mechanical ventilation, surgical interventions …) would be the examples that are most often found in the critical care units.
Also, although less frequently, patients with motor and/or autoimmune nerve diseases such as amyotrophic lateral sclerosis or Guillain-Barré syndromeare treated. These involve different degrees of muscle weakness that can reach flaccid paralysis of indeterminate duration in many cases.
All these patients have an added concern to the fact (already stressful) of being admitted to an intensive care unit: the impossibility of communicating and thus being able to express their needs, feelings, doubts and emotions.
They have existed for a long time, and are widely used in other areas related to education, systems, strategies and communication tools that replace or complement people's natural speech. They are the so-called augmentative and alternative communication systems (AAC). These tools help people with oral communication difficulties.
This project is based on the creation of augmentative communication boards,based on the pictograms of ARASAAC,which try to address the 14 basic needs of Virginia Henderson. The objective of these boards is that the patient can point out or communicate their needs and emotions at all times, which helps to reduce their stress levels and facilitates the work of the care team.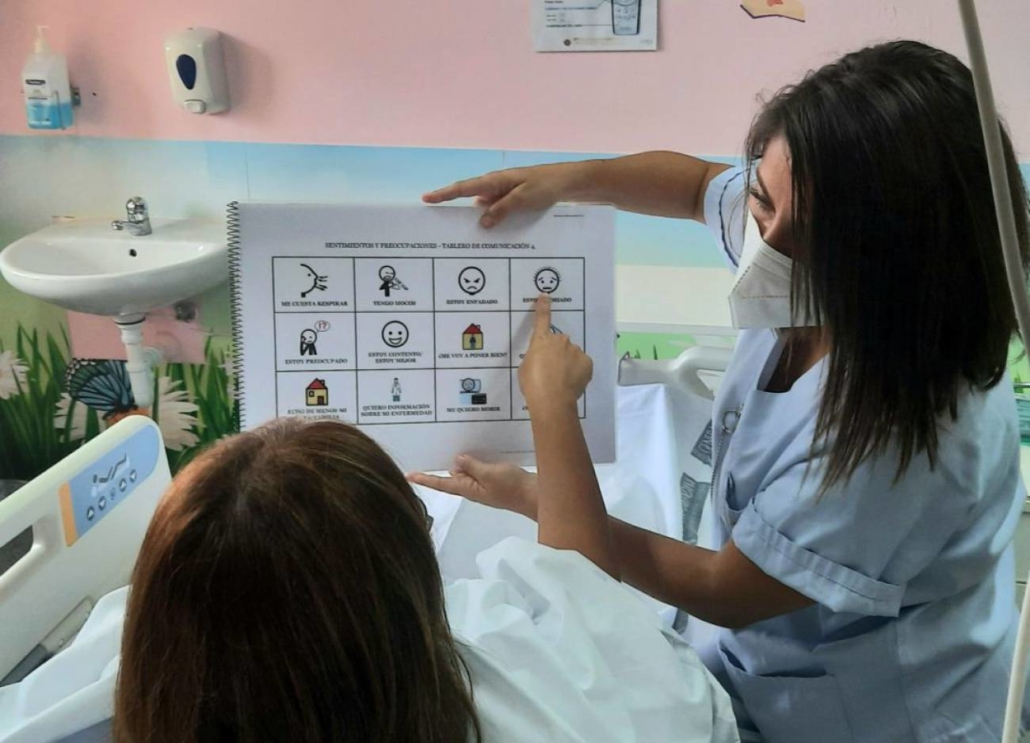 The boards are available in 3 formats:
Physical: four boards on DIN-A3 size plasticized paper, related to each other.
Digital support: through the free LetMeTalkapplication, for touch use on the tablets available in the Unit, following the same methodology. For this, a profile has been created with the name 'UCI Alicante' that can be installed on any other device if necessary.
E-TRANcommunicators, for patients with very limited mobility. There are three methacrylate panels that have a base for their fastening and a central hole through which we will establish visual contact with the patient, which will indicate their needs guiding us with the look. A maximum of 6-8 images are presented per panel, which are fastened with a small Velcro, so that we can change the pictograms to allow as wide a communication as possible with the patient.
The notebooks have been launched with the idea of making an evaluation in twelve months in which the degree of functionality of the created material is assessed. To this end, a group of support nurses has been appointed who are interested in getting involved in the project and whose feed-back will allow us to detect shortcomings, make improvements and know the usefulness of it.
This material is offered in order to be a useful tool that facilitates and gives an opportunity for communication to any patient admitted to an ICU who has awareness and need to express what they feel.
From ARASAAC, we want to convey our congratulations to all the people and institutions involved in this initiative and our gratitude for trusting in our pictograms to carry out this great project.
Sonia Balboa Esteve
Aitana Gomis Pazos
Nurses ICU General University Hospital of Alicante
and advice on AAC of:
Lourdes Viñuelas Barberá
ColCV Speech Therapist