ACCESSIBLE PANELS IN THE VILA MUSEU FOR THE EXHIBITION ON THE BOU FERRER FLOTSAM – VILLAJOYOSA (ALICANTE)
We present the new intelligent interpretive panels of the exhibition of the Vilamuseu de Villajoyosa (Alicante) on the Bou Ferrer flotsam. These panels incorporate easy-to-read texts and ARASAAC augmentative communication pictograms. The QR code leads to audio description content for the visually impaired, to videos in sign language,to videos of the scientific team explaining things, to the wreck and its findings in 3D.
The Bou Ferrer flotsam is a large Roman merchantship,shipwrecked in the middle of the first century AD.C. off the coast of Villajoyosa (Alicante). It has a length of about 30 meters and approximately 230 tons of length. It was a large commercial sailboat that transported a main cargo of about 2500 amphorae, of the Dr. 7-11 type, produced in potteries such as Villanueva de Puerto Real in Cádiz. Each amphora contained about forty liters of a fish sauce, made from anchovy, mackerel and horse mackerel.
At present, the Bou Ferrer flotsam is the only large merchant of the Roman period, in the entire Mediterranean, that combines an unparalleled state of conservation,along with a depth under the sea accessible to underwater archaeologists. These two factors motivated from the moment of its discovery,by José Bou and Antoine Ferrer in 2001, that various actions were undertaken for its study and preservation.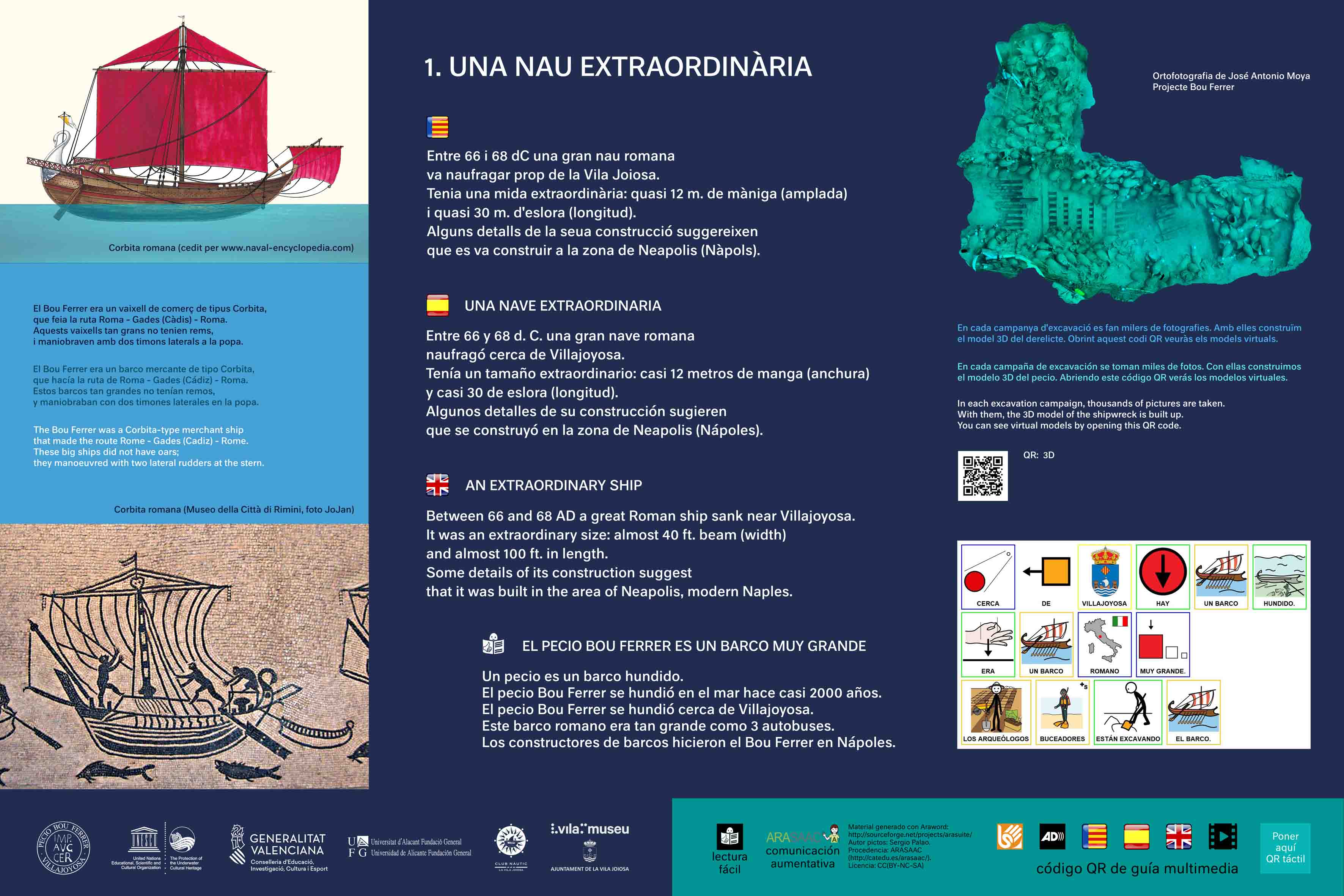 From ARASAAC,our thanks to Antonio Espinosa, Director of Vilamuseu,with whom we will continue to collaborate in this type of initiatives that facilitate communication and cognitive accessibility for all people and, in this case, in the field of culture.