BOOK AND INTERACTIVE PRESENTATION WITH PICTOGRAMS OF ARASAAC IN THE REPRESENTATION OF THE WEDDING OF ISABEL DE SEGURA – TERUEL
You already know ARASAAC's commitment to defending the right to communication and cognitive accessibility for all people and the best way to demonstrate this is always by example.
The famous legend about the Lovers of Teruel,represented with real actors in the Wedding of Isabel de Segura is already more accessible to all people in the edition of February 14 to 17, 2019, thanks to the collaboration carried out by the Aragonese Portal of Augmentative and Alternative Communication ARASAAC – project dependent on the Department of Education, Culture and Sport of the Government of Aragon– and the Department of Education, Culture and Sport of the Government of Aragon– and the Isabel de Segura Weddings Foundation.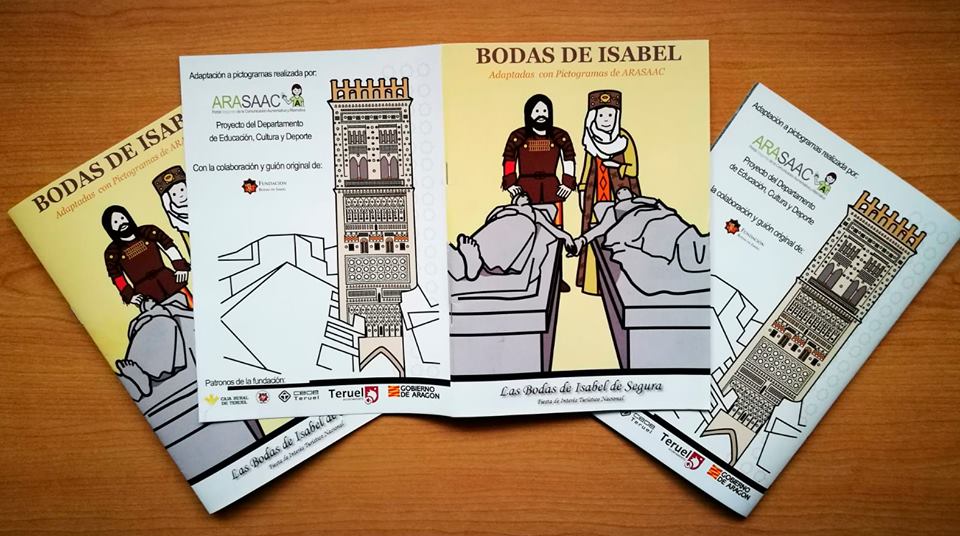 To this end, an account of the history of Isabel and Diego has been elaborated through telling the story of Isabel and Diego through photographs with texts adapted to easy reading and pictograms of ARASAAC, with the aim of facilitating the understanding of this legend to people who present difficulties in cognitive accessibility and communication due to different factors (people with autism, intellectual disability, aphasia, lack of knowledge of the language, strokes, neurodegenerative diseases in the elderly, etc.).
To do this, an interactive presentation has been developed that will be projected on the giant screens located in the different parts of the city of Teruel and an accessible book with the history of the legend, which you can download from this link:
https://arasaac.org/materials/es/1954
In this way, ARASAAC and its collaboratorsare becoming the protagonists of cognitive accessibility in Spain and also the initiatives are spreading to other countries. From the signaling of buildings and public services of different municipalities to the adaptation of the procedures and protocols of the hospitals, through the elaboration and adaptation of accessible documents are examples to follow, although there is a lot of work ahead.
We hope that this collaboration will be useful to you and we will continue to work intensively on new projects in favor of communication and accessibility in all contexts.
Download presentation and book: