COGNITIVE ACCESSIBILITY WITH PICTOGRAMS IN THE MUSEUM OF PREHISTORY – VALENCIA
This initiative of the Museu de Prehistòria de València was born from the conviction that museums are spaces for leisure and social learning, where the principles of equity and inclusion are the key to giving new answers to the needs of a very diverse society. For this reason, the objective of this material is to facilitate access to the collections for all people and encourage their inclusion in a public space, such as a museum.
To achieve this goal, the Department of Didactics of the Museu de Prehistòria de València is developing a project for the creation of a series of guides adapted with pictograms of ARASAAC and aimed at people with difficulties in communication and cognitive accessibility.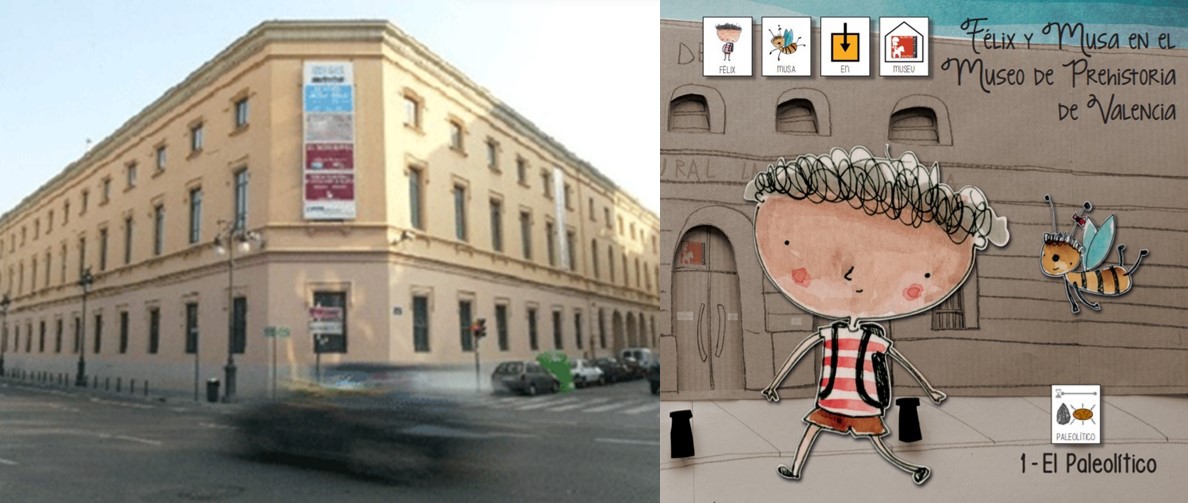 The protagonists of these guides are Felix and Musa, two characters who tour the different places of the museum and discover how life developed in Prehistory.
At the moment, you can access the guides published in Spanish and Valencian by clicking on the links listed on the right side.
The objective of this material is to facilitate the visit to the Museum and to understand the way of life of Prehistory through the archaeological remains that are exposed.
The objects are the common thread of the itinerary and serve to explain specific topics.
In addition, during the tour a series of activities are proposed that allow to consolidate the contents.
The proposal includes three types of resources designed to reinforce observation, active listening, cognitive accessibility and manipulation:
Pictograms and texts: explain the content of the rooms and help activate processes of observation and active listening. To facilitate the spatial location, each information unit includes the photograph of the showcase on which it is worked.
Illustrations: they are linked to the different contents and promote cognitive accessibility. To reinforce the understanding some images incorporate communicative activities.
Materials: allow access to the contents through manipulation. Four activities are proposed marked in the notebook with the symbol of the character Musa and the corresponding number. This same pictogram is repeated in the place of the room where the activity can be carried out.
From ARASAAC, we convey our congratulations to Neus Lloret Lloret, Eva Ripollés Adelantado, Laura Fortea Cervera, Vanesa Mora Casanova and the Museu de Prehistòria de Valencia for this great initiative and our gratitude for trusting our pictograms to carry it out.