CAA TUTORIAL – HOW TO ELABORATE A SOCIAL STORY WITH PICTOGRAMS
Authors: Clara Muñoz Rey-Stollel (Psicopedagoga, Maestra de Educación Especial y Educación Infantil, especialista en Trastornos del Espectro Autista) and ARASAAC
---
"A social history is written to provide information about what people, in a given situation; thinks or feels. They represent a series of experiences where social signals and their importance are reflected, and the script of what should or can be done and said; in other words, the what, when, who and why of social situations" (Attwood, 2000).
The term scripts or social stories appeared in the 90s by the hand of Carol Gray with the intention of giving explicit information about the appropriate social behavior and favoring the understanding of these social situations.
Carol Gray defines the concept of social history as "a short individualized story that is used with children with ASD to clarify difficult or confusing situations. More specifically, "a social history is written to provide information about what people, in a given situation, think or feel."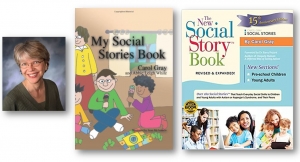 Social stories are developed individually and are mainly used to clarify situations in the context of context that are difficult to understand or confusing for people with ASD. These stories can be shown before a situation occurs to anticipate how the person should act or prepare for that situation they don't know or expect.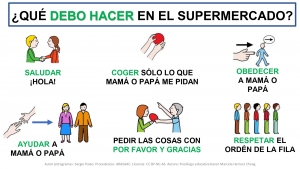 It can also be shown a time after the event has occurred to explain what has happened. Carol Gray states that one should "read the story in a quiet place showing a positive attitude" and "avoid sharing a story when the child is sad, or use it as a result of bad behavior."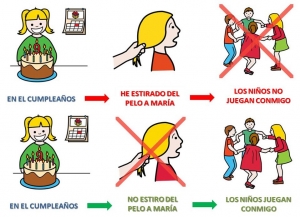 Why are social stories so useful?
Some people often have difficulty understanding and performing the appropriate and expected social behaviors that usually appear naturally.
Many times they do not obey orders or do not comply with what we expect of them,and we think they are not challenging. For example: not taking out the books in class, not doing homework, not picking up the toys, not answering our questions, …
This type of behavior can be due to several factors:
Difficulties in theory of mind do not allow them to predict and understand the behaviors of others, which can lead them to react inappropriately without realizing it ("telling a partner that their breath smells bad, without realizing that it can feel bad").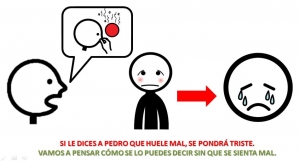 The difficulty in central coherence leads them not to interpret the information coming from the environment and not to predict the changes ("it is raining, so we will not be able to go to the park"), as well as the causal relationship between events and emotions ("Peter is sad because he has failed the exam").

Difficulties in executive functions generate problems in the anticipation of situations, mental flexibility when solving a problem and self-control.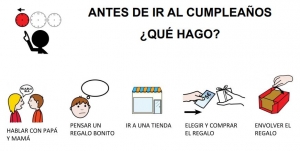 Finally, it is important to externalize the information that we want to explain explicitly ("how to make a friend") in the form of visual supports so that it remains and they understand it better, due to the difficulties in social communication and in the use of language.
Sometimes, it can be very interesting that in the elaboration of the social history the person to whom it is addressed participates, personalizing it to their own experience.
What aspects should we take into account to elaborate a social history?
Before we begin to elaborate our social history, we should take into account a series of basic aspects that can help us to develop it properly.
Regarding the form and content of the story…
Identify the situation on which we want to build our history. An appropriate idea is to start from the typical questions: where…?, when…?, who…?, what…?, why…?, how…?, etc.
Write the story in the first person so that it feels reflected.
Adapt the complexity of the texts and the type of visual supports to the cognitive capacity of the person to whom it is addressed. In some cases, the story may be composed of photos and texts in easy reading, while in other cases, it will be necessary to add pictograms to make it more understandable.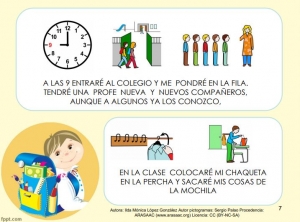 Regarding the type of sentences, we should…
Report on the specific situation:"Today I am going to a friend's house to celebrate her birthday and many children will attend."
Direct your behavior towards proper behavior:"On the birthday, we will all play together in the garden"
Explain what happens if your behavior is inappropriate:"If I don't play with the children, I will get very bored and sad."
Express what other people can do to help:"My friend will explain to me how to play the comba."
Highlight the meaning of what we intend to convey:"If you play with other children during the birthday, you will have a lot of fun and make new friends"
Synthesize the information for future situations:"When I'm invited to another birthday, you're going to have a great time."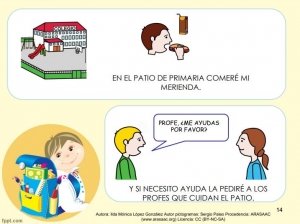 Regarding its use…
Read the story in a quiet place with a positive attitude,sitting next to it and focusing attention on the story.
Do not use the story when you are sad or after bad behavior. Never force the situation.
Keep in mind how often we are going to tell a story. A story about going to the bathroom is not the same as a story about going to the amusement park.
Use creativity to attract attention. In some cases, we can use objects that appear in the story and even make a representation.
Create routines that help you define what your role is in each situation.
Discover what is the underlying cause of the person's behavior.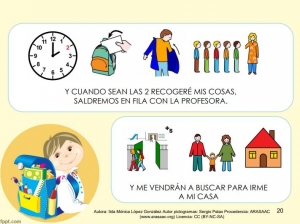 How can we craft a social story?
A simple way to elaborate our social story is to use our slideshow software,since we will only have to insert and modify the pictogram photos…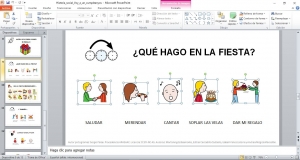 … and introduce texts adapted to the needs, characteristics and capacities of the person to whom our social history is addressed.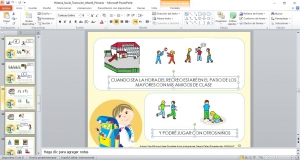 At the level of software, we recommend the application Dictapicto, elaborated by Doble Equipoand driven by the Orange Foundation. Dictapicto is an app that allows us to pass the voice or written text to pictograms,so it allows us to create and elaborate our social history in a simple way at any time and carry it with us to any place.